Highlights
Record power density aluminium gallium nitride barrier transistors (12/2019)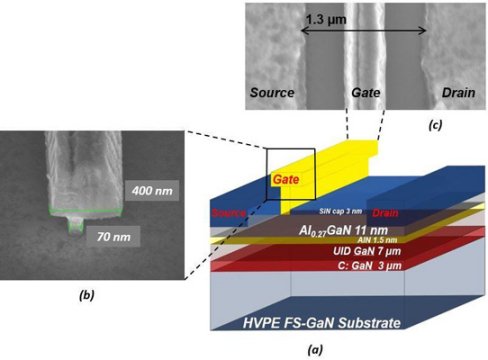 Researchers from IEMN, CRHEA, LAAS and Saint Gobain Lumilog claim record power performance at 40GHz from aluminium gallium nitride (AlGaN)-barrier high-electron-mobility transistors (HEMTs) on freestanding gallium nitride substrates.
Read more...
A new semiconductor material (11/2019)
In collaboration with researchers from CEA-LETI in Grenoble, C2N of Palaiseau and Max-Planck Institute in Stuttgart, a new semiconductor, Al5+αSi5+δN12, was synthesized by high temperature annealing of aluminum nitride films under silicon flux. A high resolution transmission electron microscopy study combined with theoretical calculations allowed to determine the crystalline structure of this new material that could have applications for the emission and detection of UV light as well as for the realization of transistors.
Read more...
2nd UCA materials day (09/2019)
The second UCA materials day took place on September 13 in the premises of the IMRA company in Sophia Antipolis.
New holography method with GaN metasurfaces (07/2019)

Conventional hologram designs lack orbital angular momentum selectivity. We designed metasurface holograms consisting of GaN nanopillars with discrete spatial frequency distributions allowing the reconstruction of distinctive orbital angular momentum dependent holographic images.
Read more...
European metrology project GIQS kick-off (06/2019)

The European project GIQS (Graphene impedance quantum standard) aims at developing impedance standard easier to operate thanks to the use of graphene on SiC. The consortium, gathering 7 national metrology institutes from European network EURAMET and 2 national metrology institutes form Asia has been reinforced by CRHEA and C2N, who will bring their recognized expertise in graphene growth and processing. The project has just started for 3 years.
Read more...
2018 highlights (03/2019)

The 2018 CRHEA highlights brochure is available.
Read more...
Labex: GaNeX extended for 5 years (02/2019)

The labex (laboratory of excellence) GaNeX is part of the 103 labex extended after the evaluation carried out by an international jury during the last quarter of 2018. This extension for a duration of 5 years was announced the 8/02/2019 by a joint statement by Frédérique Vidal, Minister of Higher Education, Research and Innovation, and Guillaume Boudry, Secretary General for Investment.
This support represents a financial commitment from the State for Research of € 444 million over 5 years for all the labex extended.
Read more
...[Fr]
Job: Lecturer position (02/2019)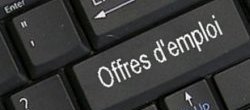 An offer of recruitment for a Lecturer position in the field of electronic components, nanotechnologies, optoelectronics, embedded systems, is open.
The file submission limit is the 5th march 2019.
See the offer
...